Straws are a minor item in the game, Candy Crush Soda Saga. They were introduced in the 3rd episode, Soda Springs in level 20. Straws are used when candies are either moving vertically or horizontally. These straws are visible to players each time you see different boards.
Straws are like teleporters, but with its twists having candy going elsewhere. Straws are red with a normal long funnel.
Properties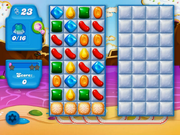 Straws are not a blocker or a helper. They are considered as a teleporter. Just like Candy Crush Saga having teleporters, this is renewed and changed and is totally different. They are called straws because the game is all about Soda.
Trivia