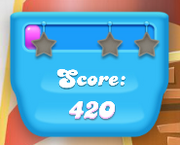 Star is one of the fundamental elements in Candy Crush Soda Saga. They are present on all levels. For each level, stars can be earned by reaching certain score requirements - by reaching certain amount of points. A player can earn up to 3 stars per level. There are currently a total of 8445 stars that can be earned from 2815 levels: 15 stars for episode 1, 30 stars for episode 2, 45 stars from episode 3 to episode 36 and from episode 63 to the next episodes, and 60 stars from episode 37 to episode 62. 
If the player doesn't reach target score one star after playing (including Soda Crush effect), the game will choose their last score to make target score for one star and that is also their current score.
Since 18-02-2018, when you get one star in level, now, the single star is in middle instead left side in all maps.