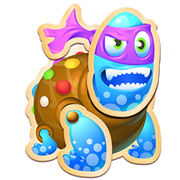 Sprinkleshell is one of the main features in Candy Crush Soda Saga that first appears in Home Sticky Home. The first level with Sprinkleshell is level 301.
Properties

Sprinkleshell is a turtle with a cyan body and Color Bomb-resembling shell. When a player starts a level, his head is shrunk. An energy bar under him is needed to be charged. The way to add his power is to "feed" him with cyan candies (

). When the power bar is full, Sprinkleshell will wake, and you can click him to clear a color of your choice. Sprinkleshell will eat the candies. It is nearly like the combination of a color bomb and a regular candy without costing a move in a similar fashion to Pepper Panic Saga's make your own match powerup.
Trivia
Appearances
This information is outdated.

The information in this page is now outdated as of 5 July 2022. It hasn't been updated in more than a month even though updates are usually done at a much higher frequency.

The content of this page was lately updated at 18/02/2021 PM 04:10 (UTC).
| First Level | Last Level | # |
| --- | --- | --- |
| 301 | 3334 | 187 |
Gallery