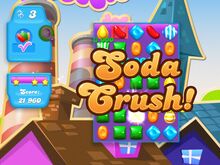 Soda Crush occurs when a player accomplishes the objective of a level.
Properties
When the level is completed, the voice will announce, "Soda Crush!" and the same words appear on the screen. The sugar crush is a reward and a way to get extra points for every move you have remaining when the level is completed.
Normally what happens is that after the Sugar Crush is announced, all the special candies at the top left on the screen automatically activate. They then work their way to the right and down. The special candies go off in this order: candy fish, wrapped candies, striped candies, color bombs, and coloring candies. All these are done in reading order from left to right and top row to bottom row. Any new special candies formed during cascade will change the sequence. Some of the special candies will be converted during the process.
Soda Crush has 2 phrases:
Every move left will be transformed into an additional special candy on the level board - candy fish, wrapped candy or a striped candy and give you 3,000 points.
When added to the board, all kinds of special candies will be activated in order: fish candy, wrapped candy and striped candy.
Note that as Soda Crush progresses, extra candy colors may be added onto the board. This is likely to prevent excessively long cascades from occurring especially on wide-open four-color levels, which tend to result in very high score variation.
Trivia
Special candies will still be activated in liquorice locks, but they will not be activated in comb honey and ice cubes.
The order when special candies are added on the board is: wrapped candy appears in the first move, striped candies appear in four next moves and candy fish appears in the sixth move. After completing adding, they will be repeated until the remaining number of moves runs out.
This feature is similar to Sugar Crush in Candy Crush Saga and Candy Crush Jelly Saga. However, Sugar Crush in Candy Crush Saga works differently comparing the other two Saga games. For example, no extra colours will ever spawn in the first game.
It will not happen if the level is completed with no moves remaining and if there are no special candies on the board.
Gallery