Peppermint Stick is a blocker in Candy Crush Soda Saga. Its first appearance was in the 67th episode, Wonky Workroom. The first level with peppermint sticks is Level 1106 (which is currently the only level that is impossible to fail).
Properties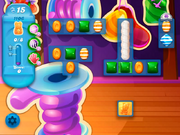 It is a blocker which can take up two to nine squares in a straight line (horizontally and vertically) and can be destroyed by lighting up all stripes on it (by matching candies next to it or by hitting it with special candies). When all stripes on the peppermint stick are lit up, it will explode, create the equivalent of a striped candy + striped candy combination for every square it occupied.
The Peppermint Stick has two stripes for every square it occupies, i.e. a peppermint stick which occupies three spaces will have 6 stripes and will, therefore, need to be hit 6 times. When it explodes it will release a shock wave to all sides of it, including the top and bottom. You can see it as multiple Striped Candies in one explosion.
Color bomb + Color bomb can light one red stripe on the peppermint stick, while Color bomb + coloring candy can light up all at once.
Lighting up all red stripes will grant 3,000 points (9,000 if the last hit is via special candy).
Appearance
This information is no longer up to date, and needs attention!

The information in this page is important in keeping this wiki up to date. However, it is now outdated as of 26 May 2022. It hasn't been updated in more than a month even though updates are usually done at a much higher frequency.

The content of this page was lately updated at 13/03/2021 PM 10:55 (UTC).
Notable levels
Level 1106 - First appearance of peppermint stick and the shortest one (2 spaces).
Level 1121 - The first level with the longest peppermint stick (18 spaces).
Level 1267 - The first level with two longest peppermint sticks.
Trivia
The Peppermint Stick blocks the effect of striped candies, much like liquorice swirls.
In the levels which have peppermint sticks, in the last section without it, it will detonate automatically before Soda Crush will be activated.
This is the blocker has the most number of hits than the other blockers, the maximum is 18 hits.
Peppermint Sticks must occupy at least 2 squares.
On Facebook, when it is activated, the first row above it won't be affected. However, on King.com, everything above it will be removed.
Gallery
Horizontal peppermint stick
Vertical peppermint stick