The information is no longer up to date, and needs attention!

The information in this page is important in keeping this wiki up to date. However, it is now outdated as of 23 January 2019. It hasn't been updated in more than a month even though updates are usually done at a much higher frequency.

The content of this page was lately updated at 19/10/2018 AM 02:05 (UTC).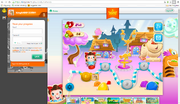 There are currently 2815 levels in Candy Crush Soda Saga, all within 180 episodes, each with fifteen levels apart from the first two episodes which have five and ten, episodes which has 20 after Gumdrop Acres to Yummy Yacht, and from Loch Nom and onwards, returning 15 levels respectively (not counting the levels from Bubblegum Hill). Currently, there are seven level types: Soda, Frosting, Bubble, Chocolate, Honey, Bubblegum and Jam.
 Difficulty coding
Very Easy • Easy • Somewhat Easy • Medium • Somewhat Hard • Hard • Very Hard • Extremely Hard • Nearly Impossible • Variable
 Note that goals include target score.