Liquorice Swirl (also known as Liquorice Wheels or Licorice Swirl) is a blocker in Candy Crush Soda Saga. It is the second type of blocker involving liquorice. The blocker looks like a swirl of black liquorice and a dot of cream in the middle, taking up an entire square. It is introduced in episode 11, Frosting Forest. it becomes more abundant in some levels because of the liquorice swirl cannon, a new element in episode 12, Licorice Pastures soon after.
Properties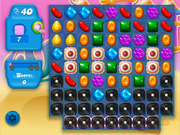 The liquorice swirl is an invasive blocker, it competes with other candies for vacancies on the board. 
It is one of the only blockers that can be clicked on and switched with candies, but not matched. 
It can be disposed of through breaking the candy next to it, or any special candy's effects through it.
They are resistant to special candies. If a striped (or wrapped candy, candy fish)'s effect hits a liquorice swirl, it will get rid of the blocker but won't get rid of any other candies or blockers beyond it. This can become a disaster when trying to deal with them. Color bomb and coloring candy cannot combine with liquorice swirls.
Color bomb + color bomb and color bomb + coloring candy combinations can clear all liquorice swirls at once regardless of its resistance.
Appearances
This information is no longer up to date, and needs attention!

The information in this page is important in keeping this wiki up to date. However, it is now outdated as of 18 May 2022. It hasn't been updated in more than a month even though updates are usually done at a much higher frequency.

The content of this page was lately updated at 14/10/2020 AM 11:09 (UTC).
| First Level | Last Level | # |
| --- | --- | --- |
| 136 | 3349 | 1092 |
Trivia
Gallery