Liquorice Lock (also known as Licorice Lock, Liquorice X, Liquorice Cage, X Lock, or Locked Candy) is the first Blocker introduced in Candy Crush Soda Saga, specifically at Level 2. Its first appearance is in the 6th episode, Choco Canyon, at Level 61 for redesign purposes. This blocker looks like a locked door, with Licorice surrounding the outside of the square as an X-formation.
(IMPORTANT: Due to a redesign in Level 2, Cupcake is now the first Blocker, starting with Level 9.)
Properties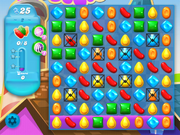 Any kind of candies or swirls can be captured by a Licorice Lock, and they can't move until they get unlocked. Locked candies retain their original properties except for mobility. However, the locked swirls have no resistance to special candies' effect.
It depends on what's inside. Special candies or their combinations are always effective. Because other properties of locked candies or blockers are retained, you can also unlock them according to their properties.
Appearances
This information is no longer up to date, and needs attention!

The information in this page is important in keeping this wiki up to date. However, it is now outdated as of 5 July 2022. It hasn't been updated in more than a month even though updates are usually done at a much higher frequency.

The content of this page was lately updated at 23/04/2021 PM 03:11 (UTC).
| First Level | Last Level | # |
| --- | --- | --- |
| 2 | 1759 | 717 |
Trivia