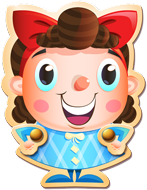 Kimmy (also known as Kimmie) is the main protagonist in Candy Crush Soda Saga. She is a 10 year old young girl who sets out in the soda world to find her sister, Tiffi (or Toffette). She discovers what's out in the open world for her to discover.
When the player completes a level, Kimmy appears jolly. However, she will cry if the player fails a level.
Appearances
Edit

Kimmy wears a light blue dress accompanied by short, brown pig-tails with a red bow. However, she doesn't wear anything else. She has similar features to Tiffi but has brunette hair with a red bow holding it in place. Pink rosy cheeks are seen on her complexion as well as a nose similar to Tiffi's. Kimmy wears a blue dress with a white bow and white buttons including blue shoes. Unlike Tiffi, her expressions aren't as exaggerated.
On the Hard Level, she wears a Ninja clothing holding a fan on her right hand. On the Super Hard Level, she wears a Samurai clothing holding a candy cane (sword) both of them on her hand. On the Ultra Hard Level, she wears Japanese man clothes with a white beard.
On the episodes, Sugarshell Cove and all episode in World Twenty-Two, she wears a swimming mask on the underwater. On the episodes, Ice Pop Pools, she wears a swimming suit on the beach. On the episodes, Juice Cruise, she wears a pharaon's hat on her hat. On the episodes, Sweet Streets, she wears a DJ suit.
Background
Edit
Originally from the Candy World, the soda world was eventually mixed and transformed into a Soda world. She's a 10 year old girl who discovers where her sister has wandered off to... Have you seen Tiffi lately (besides the Candy World?)
Her adopted father is Mr. Toffee.
Her diet is the same as Tiffi's (500 Swedish fish per day) and for the same reason (good for her joints). Moreover, she drinks 100 liters of soda a day because it keeps her on her toes.
If the player clicks on her, she'll say "Åh Läskeblask!", meaning "Oh soda!" in Swedish.
She often appears in the limited time in Candy Crush Saga.
Her jumping when the player completes hard levels was changed after the release of Liquorice Lair.
Her birthday was revealed to be November 12, on the official Candy Crush Soda Saga Facebook page.
Main article: Kimmy/Gallery
Community content is available under
CC-BY-SA
unless otherwise noted.