Cupcakes are blockers in Candy Crush Soda Saga. They are first introduced in episode 2, Lollipop Meadow, first appearing in level 9. There are five types of cupcakes: one-layered to five-layered cupcakes. Their appearances depend on the progress of making a cupcake. The more completeness, the more layered the cupcake is. The amount of layers is positively related to how hard it is to clear the cupcakes.
Properties
Edit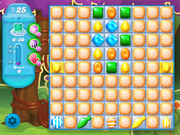 A cupcake occupies one square and is stuck until cleared. It can be broken by making candies adjacent to it, or through any special candy's effects reaching the cupcakes. This procedure needs to be repeated as many times as there are more layers.
Color bomb + color bomb combination can take off one layer of all cupcakes. Color bomb + coloring candy can strip all types of cupcakes.
Destroying the last cupcake layers will give you 20 points (the score won't display when being cleared). In addition, if the last hit is candy fish, striped or wrapped candies' effect, it will give to you 60 points.
Types of Cupcakes
Edit
Community content is available under
CC-BY-SA
unless otherwise noted.