Chocolate is a blocker in Candy Crush Soda Saga, introduced in Level 31. It is the main target and appears in all chocolate levels.
It is one of the most hated blockers as it spreads every move if you do not "eat" it. It can also disrupt your moves. Chocolate can be eaten by breaking the candies adjacent to it, or through any special candy's effects reaching the chocolate.
There are two types of chocolate, brown chocolate, and white chocolate. Brown chocolate (black chocolate or dark chocolate) is introduced in episode 4, Shortcake Shores, along with chocolate type levels. White chocolate is introduced in episode 10, Candycane Isle. The brown and white chocolate coexist in the same level starting from episode 15, Wafer Workshop.
Types of chocolate
Edit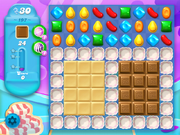 Image
Name
First appearance
Hits to take
Growth rate (square)
Brown Chocolate
Level 31
1
1
Locked Brown Chocolate
Level 45
2
1
White Chocolate
Level 121
1
1 - 2
White Chocolate

(C type)

Level 121
2
1 - 2
Locked White Chocolate
Level 201
2
1 - 2
Locked White Chocolate

(C type)

Level 135
3
1 - 2
Achievements
Edit
Life is a box of chocolate
 : Can you ever get enough of chocolate?

Eat chocolate.
The brown chocolate has the words Candy Crush inscribed in it. The white chocolate (2 layers) has the word C inscribed in it.
This can be broken if a color bomb or fish candy hits an adjacent candy.
The white chocolate will be broken completely if a candy fish hits it directly, even if it's two-layered white chocolate.
Chocolate appears only in chocolate type levels, but it in the original Candy Crush Saga, it can appear in any type of level.
The brown chocolate is similar to a chocolate in Candy Crush Saga.
In a level with both chocolate types, if you eat brown chocolate during a move, the white chocolate will still multiply because it wasn't cleared. The same thing goes vice-versa.
If a chocolate is cleared:

On the web, the icon will break, heal again and the counter is counted.
On mobile, counter only counts.

Unlike locked chocolate in Candy Crush Saga (that was introduced in Episode 72), you must remove liquorice lock by special candy. However, in Candy Crush Soda Saga, you can remove it by matching candies that do not need special candy.
In some devices, including web and mobile, the brown chocolate is darker than the brown one than other devices.
As of a recent update, the white chocolate icon is used if a level requires white chocolate.
Community content is available under
CC-BY-SA
unless otherwise noted.